We took an amazing honeymoon trip to Italy. We spent two weeks in Rome, the Cinque Terre, and Florence. The cuisine in each place was very different.

Rome was heavy on the red and cream sauces. Lots of pizza. Fantastic carbonara. And, contrary to what all the travel guides said, better gelato than Florence.

Florence was home of the monster T-bone (bistecca alla Firenze), white beans and minestrone.

And then there was the Cinque Terre, specifically Monterosso al Mare. Aka, LegalFoodie food heaven.

For those of you who have not been fortunate enough to experience the Cinque Terre, allow me to explain. The Cinque Terre is a chain of five towns along the Ligurian coast line. It is situated between La Spezia and Genoa, and it is spectacular. There isn't much to do except drink, eat and hike the five towns. Fine by me. I much prefer experiencing the culture to "seeing shit" anyhow. The five town hike is touted as a tourist event, but don't be fooled: it is physical. The good news is that you will eat like kings and sleep like babies after its completion!

The cuisine of Cinque Terre is, in a nutshell, exactly what I would want to eat if I could only eat one type of food for the rest of my life. Very simple food, clean flavors. Everything is cooked with olive oil, lemon, white wine and simple herbs like fresh basil and parsley.

Regional specialties include:

Pesto: I had the best pesto that I have ever had in my life in Monterosso. The lasagna in Monterosso is vegetarian and includes bechamel and pesto sauces, but never red sauce. You will be hard pressed to find red sauce in the Cinque Terre. Pesto is commonly served with the regional trofiette pasta, which is a dumpling-style noodle similar to the German spaetzle, only thinner.




Fresh seafood: Because the Cinque Terre follows the Ligurian Sea coast line, the nightly specials at the restaurants are whatever comes out of the sea that day. Case in point: most restaurants have two seafood options (among others): mixed grill and mixed fry. What ends up on your plate is entirely dependent on the day's catch. My husband ordered the mixed grill and got a HUGE plate of calamari, prawns (which are the size of American lobsters), swordfish, sea bass, scampi, mussels and clams.
We had also had several fantastic versions of spaghetti with clams, spaghetti with mussels and spaghetti with clams and mussels.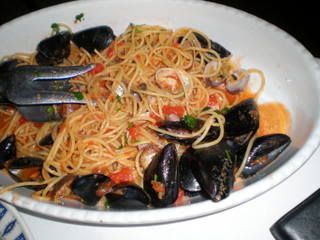 And speaking of mussels, I had the most ridiculous mussels EVER at the L'Alta Marea restaurant. Perfectly steamed in white wine and lemon juice with just enough seasoning, we were absolutely sopping up the liquid with our bread.




Lemons/limoncino: They were growing EVERYWHERE. It was amazing to see the lemons go from grove to display to limoncello, or "limoncino" as it is called in the CT. Limoncello/limoncino is a sweet, lemon liqueur that is consumed after dinner.


White wine: We had a bottle of red. Just the one. Cinque Terre serves up an amazing white wine that goes perfectly with the light, fresh seafood cuisine of the region. It is cheaper than water, and we drank a ton of it. We loved it so much we had a case sent home.
Sciacchetra: Pronounced shock-AH-tra. The meaning of the word sciacchetra in Italian is "rare, delicious dessert wine." I totally made that up. But, with its sweet notes and smooth yet boozy finish, sciacchetra is the perfect pair for a Monterosso lemon tart or tiramisu. It is really, really hard to find outside the Cinque Terre, so we are conserving our two smuggled bottles for special occasions.
Grappa: Not necessarily native to the Cinque Terre, but I thought I'd include it. My husband and I had our first grappa experience in Monterosso. Our waiter asked us if we would like "smooth grappa" or "strong grappa." My husband initially said "strong," but seeing as we had demolished 2 bottles of wine with our amazing dinner, I said, "let's go smooth." Holy shit. I believe Mr. LegalFoodie compared grappa to being kicked in the face.
If you are ever headed to Cinque Terre, you must (a) pack me in your suitcase; and (b) stay in Monterosso. The other four towns simply do not compare. In addition, eating at ANY of the following establishments will be Euro well spent:
Belvidere (great view)

Ristorante Miky (Monterosso lemon tart dessert is to die for)

Ciak (pronounced "Chuck"; do NOT pass up the spaghetti with clams and mussels)

L'Alta Marea (do NOT pass up the steamed mussels)

Via Venti (the highlight of our stay)

"Yellow Top" - unfortunately I cannot remember the real name, but it's in the Old Town at the top of the hill halfway to the Hotel Porta Roca (not hard to find, town is small), big yellow awning, fantastic view and lunch

Bar Davy (pre-dinner drinks and great free snacks)