If you are a wannabe chef like me, you MUST own a Microplane (or two, or three).
Seriously, these things are the shit.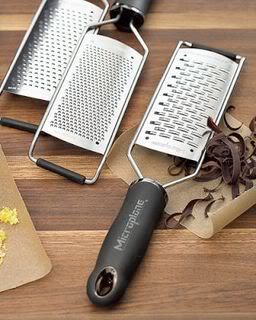 The fine grater will take care of zesting lemons and grating ginger. The coarse grater will make light work of grating hard cheeses and chocolate, and apparently can even grate potatoes (I have yet to verify this). The medium ribbon grater is good for softer cheeses.
The traditional Microplane works well for the "fine" grater, but if you are looking to buy a medium ribbon or coarse grater, I would recommend the "paddle" versions for greater stability. These bitches is sharp! Wouldn't want to shred your knuckles into that high quality parmesan!
Get yours at Williams-Sonoma (aka Mecca). They also carry them at Crate and Barrel, Sur la Table and other places like a certain department store formerly known as Marshall Field's that I refuse to patronize.